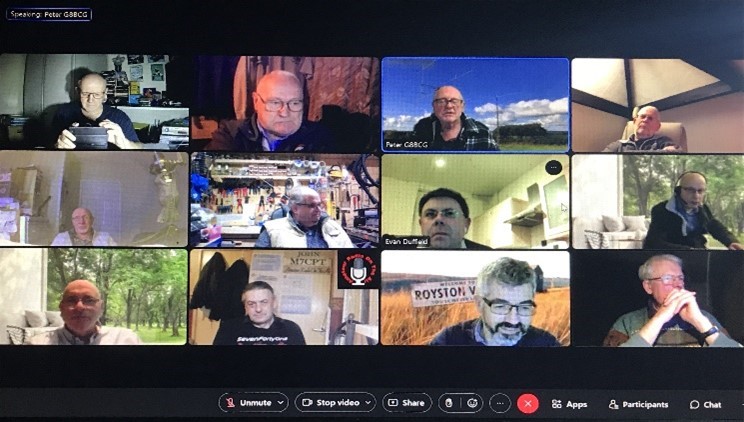 A familiar sight in recent years but one which has served many of us well allowing contact with fellow club members whether they be local or further afield particularly when personal face to face contact was not possible.
The facility has proved successful and continues to be so even though restrictions have now been eased. Online meetings will continue to feature in our programme, normally the first Tuesday of each month, and is available to groups such as the Teatime Morse net, Contest Group and Committee who regularly hold meetings by this method rather than the costly business of hiring a venue such as the JB Room at Walthew House.
As you will probably be aware, Tony M0SAV has taken on the responsibility of managing the meeting schedule and to streamline this process he has arranged for regular evening meetings to be placed into the Webex diary.
The benefit to members of this arrangement is that permanent links to the meetings can be provided and for the time being the password will remain as has been used in the past. Any change will be advised through the Google Groups mailing list.
Daily Evening Sessions – Time: from 7.15pm
Join by meeting number: 2375 140 8272 (Password G8SRS)
Teatime Morse Sessions – Time: from 3.45pm.
Join by meeting number: 2376 969 1447 (Password G8SRS)
At the outset we chose the package best suited to meeting the needs of our members and whilst this is not a free service the cost of the package has not been passed on to members.
However, in the same way members contribute when attending meetings at Walthew House, we would like to ask those joining us through the Webex system to consider making a donation to our funds to help meet the annual cost of the facility.
Should you choose to do so, then please transfer your contribution directly to the society's bank account (please email info(@)g8srs.co.uk for details) quoting a reference of "Webex" followed by your callsign, e.g. Webex G8SRS, this will help our Treasurer.