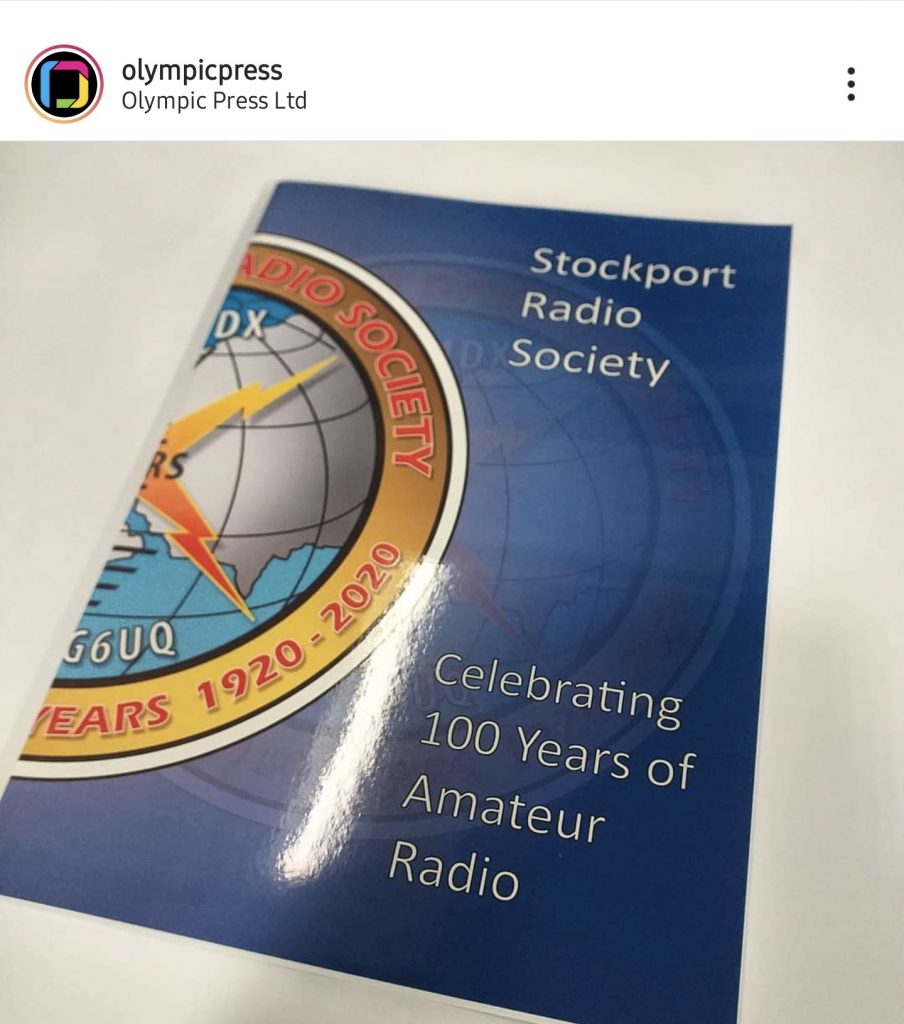 It took Heather M6HNS, our former Secretary two years to research and put together the above book.
Now published (April 2021) we have a full history of Stockport Radio Societies last 100 years. Printed by Olympic Press the book costs £15 and are bound.
If you are interested in purchasing a copy of the book please email info@g8srs.co.uk.
This is a part of amateur radio history that you do not want to miss.
Below are the comments from some of our members/non members/friends etc
Name / Callsign
Comment
Received via
Andrew M0AQM
Thanks so much for dropping the Centenary book off - I look forward to reading about the club's history
Email / SRS Member
Robert G7IOC
Book received with grateful thanks - I appreciate your efforts which made things very easy for me. I've now had a chance to look through the book and I think you're entitled to be quietly pleased with yourself. You have done your predecessor proud and, in the process, you've done the club proud too. Well done and many thanks for your efforts (as always).
Email / SRS Member
Bob M6TMA
Thanks for delivering the Centenary book to day have had a quick look Great thanks
Email / SRS Member
Keith M0JYP
Thanks to you and Nigel for delivery of the yearbook it looks brilliant also thank you for all the hard work you put in to producing it
Email / SRS Member
Pete M1PTR
I've just received my SRS Centenary book and WOW! you have done a fantastic job of pulling this together. It's packed with pictures and stories about members and our activities which perfectly complements the work done by Laurie Newman. Well done, you've done us proud.
Email / SRS Member
Jim G6URD
Seconded from me, a fabulous work, will have a thorough read and keep them safe, well worth the effort, well done
Email / SRS Member
Kieron M5KJM
I'll just echo Pete and Jim. Well done.

Email / SRS Member
John G4GEY
Just a big thank you for arranging the system for payment and also delivery of the Stockport Radio Society Centenary book during these awkward times. (no sign of GPO delivery). I was in fact a junior member in the early fifties (I think) at the Blossoms. I also worked away for nearly twenty years having been a member of the Burton-on-Trent Radio Club at that time. I shall now enjoy a good read of the SRS Centenary Book and thanks again

Email / SRS Member
Jack 2E0JEH
The book is a credit to you and the club. I'm halfway through reading it. Very informative. Thanks and regards
Email / SRS Member
Margaret 2E0CFM's XYL
the book looks fantastic – well done
Text / Non Member
Ed 2E0CFM
the book looks fantastic – the cover is brill and the work you have put in is fabulous. Look forward to reading it.
Phone / SRS Member
Steve 2E0WIT
Mine was waiting for me after work last night, many thanks for dropping it off & what a great book
FB / SRS Member
Mike G8BHX
I have enjoyed reading the new history of the society. Fond memories of Ray Phillips, I did his RAE course at Avondale during 1966/7 and passed it! A nice guy and always helpful. I remember the meetings at the Blossoms and that awful outside gents loo, the pissoire type. You got a soaking from the rain coming in, things you remember. Ray was big on Raynet, pardon the pun.
FB / Non Member
Nigel G0RXA
Look what's arrived! Well done Heather and Nigel, epic journey!!
Email / SRS Member
Tony M0SAV
The book is a great compliment to you and the club. Thank You.
Email / SRS Member
Alan M6KOY
I'm really lost for words, (first time for many years) how to thank everyone who helped with their contribution to this wonderful book and especially you Heather for all the hard work and so much time compiling it, it can't have been an easy task and offer you my sincere thanks to you both, very well done! For me, it has brought back so many happy-exciting memories seeing the photographs of the members I knew in the 50s, Bill Banks the Pharmacist, he had his shop on the A6 near to the Stockport College, Ray Dawson, he was manager of a TV shop in Hazel Grove I bought my first TV from Ray a 12 in purple screen, I think it was £25, I made my own Antenna and Nigel Paul. He worked for the General Post Office in the communications branch, and many others, I think Bill Banks was a founder member.It is all so interesting, have passed a copy on to Susan my daughter.

Email / SRS Member
Pete M0PTB
The Centenary book arrived Friday morning. It looks good
Email / SRS Member
Bob GM4UYZ
The book arrived today so some light reading for me…. At a quick glance it looks superb and certainly a massive amount of work to produce. Well done
Email / SRS Member
Jerry W7KPL
Thank you Heather I will treasure your book. I read obsessively and have Quite a library of books and many of them are of radio history.. My dad was a ham. He got his ticket In 1932 I have many historical books about amateur Radio many about Australia and the Great history of the wireless institute of Australia. You book will have a treasured place In that history. I've been ham since 1960 still love The hobby.I do not take your kindness for granted Heather. Thank you so very much. It will be 100f today here in the Desert southwest.
From the heart Heather
Email / QRZ
Slawek M0SQJ
The book arrived this morning. Thank you very much fantastic job.
Email / SRS Member
Neil M6NAE
Thank you for meeting up and allowing me to collect the SRS books today it was nice to see you and nige again after so long not being at the club. I would like to say a big thank you for all the hard work you have put into the publishing of this book. Its outstanding you deserve an award.
Email / SRS Member
Bernard G3SHF
I opened up the book today and glanced through it. I was most impressed with the quality of the book and the combination of text and pictures. An excellent job well done. Thank you for your time and effort. Are you game on for the 125th.
Email / SRS Member
Robert G1VXD
Book received this morning. It is beautifully produced. I can see that a lot of hard and careful work went into it. It is full of interesting and information I shall enjoy working my way through it. Well done, and many thanks!

Email / SRS Member
Jamie M1JSC
As I mentioned on the 6m net earlier, the society and book was spoken about in the news segment of the This week in amateur radio podcast last week - https://twiar.net/?p=3456 (starts at 1hr 35 mins) Great work on the book Heather, it's fantastic
Email / SRS Member
Don G3XTT
Excellent book, well presented (review to follow)
Email / Editor of Practical Wireless
Terry G0BIX
What a marvellous way to mark a great club. You in particular have created something that isn't parochial but will appeal to many hams, and I would be pleased to join a club like yours. Plenty of happy smiling faces is great to see, and the layout and formatting is a pleasure to read. I was particularly pleased to see 60103 nee 4472 being celebrated. I and my wife had the pleasure to be on its first trip after the extensive works and it was close to a dream come true as I have a black and white photo of my brother and I aged about 12 cabbing 4472 when it was in Finsbury Park. I digress, thank you for the book that is interesting to members and non-members alike, and which hopefully shows a club that has another 100 years on its agenda and can deal with the changes that it will no doubt have to face.

Email / Non Member
Tim GW4VXE
Earlier this week, a copy of the SRS100 book landed here which was a wonderful surprise, which I have Nigel G0RXA to thank for.
I've just finished reading it and I wanted to pass on my congratulations to you. It's beautifully produced and designed and it has a really excellent feel about it. Since I started taking part in NFD back in the 1980s (gulp!) I have been aware of G6UQ/P so it was a genuine pleasure to learn more about the people and stories behind the callsign. I was also surprised how many callsigns I recognised as I read the book. Tony G4APA was a very well known callsign to me from VHF contesting, for example. The other thing that struck me was a sense of just how much hard work, discussions, letters, emails and sometimes difficult decisions are required to keep a club going for 100 years! Congratulations to you all.

Email / Non Member
Barry VK2BJ
This is just to let you know that I found the book on my doorstep when I got home from the office this afternoon. It was well packed thank you and in perfect condition when I opened it. I have had an initial quick squiz but I have a lot of reading still to do. Two things struck me. One is that I have a direct connection back to the founding of SRS in 1920 by way of my knowing Bill Banks personally from around 1958 when I first got introduced to SRS. The second caused me to shed some tears and that was a photograph of Benja Fold in Bramhall which was one of the many SRS meeting venues. Benja Fold was where I first met my late wife, Margaret, around 1963 when ballroom and latin american dancing classes were held there several times a week (run by Jessie Burgess) and I had been persuaded to go by a work friend, Geoff Law, who told me what fun it was. Geoff was ultimately my best man and I was his! That's enough for the moment Heather. Thanks again.

Email / Member
Gary G0HJQ
I'd just like to say thank you for all your work on the SRS 100 years book. It's really impressive and superbly researched. It certainly brings back memories of when I was involved in the club and the committee. The first meeting I attended was upstairs at the Blossoms. Probably the same room used by the Blossoms band before they became megastars. I remember the lecture - it was Des Alimundo G3HK talking about how to tune up a valve hf amplifier, while everyone else was getting lubricated with the fine ales.
Email / Ex Member
Dave - Lamm Comms
I would like to thank everyone at the club for the kind donation of the book, and also to how much detail you have put into the making of the book, the quality and the pictures that are inside. The cover of the book looks very professional. They are going to put it on their website as well. They would like to thank all the club members for the business during lockdown.
There is a lot of history at Stockport Radio Society which is shown within the book and all the members should be proud to be a part of such a great club. Stockport Radio Society is a club that is going places and when the club says it will do something they will do it. Its great to have club members who are willing to join on anything what the club promotes. and I am humbled to have a copy of the book..

Email / Non Member