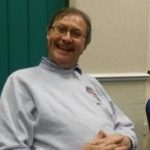 I first became interested in Amateur Radio back in 1965 when I built a two valve SW regen receiver. I started collecting QSL cards as an SWL and later bought a National HRO which extended the range of my listening. I still have the HRO though its not used as much.
In 1975 I passed the Radio Amateur's Examination but regrettably never followed it up with the morse test, mainly because my interest moved to other hobbies. I always took a SW RX with me when travelling, but it wasn't until 2001 when morse was no longer a licence pre-requisite that I applied for a full licence.  I have been operational since and now know I should have done this earlier!
These days I'm an active member of the Stockport Radio Society and the G5O contest group. My base station rig is an ICOM 746. For car use I have a ICOM 706 with a Yaesu FT817 for backpack op. I recently bought an Yaesu FT1000MP MkV which serves as an excellent contest rig.
The MA5B antenna in the QSL card photograph is now mounted on a homebrew telescopic mast above the house and is used for 20m upwards.
For the lower HF bands I use a G5RV and/or half wave dipoles.
I have been active from my car using 50W from an ICOM 706 Mk11G into a 20m Helical Whip. The location I prefer is 450m a.s.l about 10miles from my QTH and far away from EMI. The pictures above were taken in February.
Once or twice a year normally June and August I am fortunate to operate from a friends house near St. Maxime, South France. I have a 10m fishing pole stored there which I use as a vertical antenna for 10,20 & 40m with my ICOM 706Mk11G that I take with me. If you hear me please give me a call.