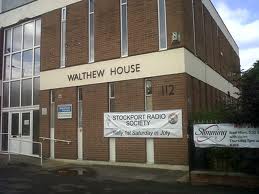 Walthew House is an independent charity in Stockport that provides practical and emotional support to people who are Blind, Visually Impaired, Deaf, Hard of Hearing or who have Dual Sensory Loss. The charity was created in 1882 and is named after its founder John Walthew, a former Mayor of Stockport.
On 7th July 2009, Walthew House merged with the Stockport Centre for the Deaf to become one charity (registered charity number 215469).
If you would like to find out about our upcoming events – please see below.
We regularly hold events to raise money for our charity and to raise awareness of the challenges facing people with a sensory loss. In 2017 some of these events included a charity auction with lots such as sporting experiences and family attraction tickets, as well as a wine tasting evening hosted with Helen Jones Wines. Thank you to everyone who supported these events.
The dates of our current 2018 events can be found below. If you would like to attend, support or volunteer at one of these events then please get in touch with Dan Oliver on 0161 480 2612 or funding.walthewhouse@ntlbusiness.com.
Fairtra
de Coffee Morning and Table Top Sale – Saturday 3rd March
We're hosting our regular table top sale on Saturday 3rd March between 9am and 11am, but this month we are hosting it alongside a Fairtrade Coffee Morning! We're working with our friends at the Co-op as part of Fairtrade Fortnight, so as well as some bargains from our stallholders you can also grab a brew and a piece of cake! Entry is free and anyone is welcome, we have a car park on site if you need it. If you would like to sell your items then tables are provided and set up at £7.50 each. Contact us on 0161 480 2612 for more details.
Wa
lthew House Cup – Wednesday 14th March
Our annual blind bowling tournament returns on 14th March, at Parrs Wood Tenpin bowling alleys. Teams of 4 people compete to become tournament champions, bowling whilst blindfolded or with sim specs on to simulate a sight impairment. This is the perfect event for a group of friends or family members, or as a team builder for work colleagues. Entry per team is £50 (£12.50 per person) and includes plenty of refreshments at the event and personalised certificates. Businesses are also able to sponsor bowling lanes at the event. Please contact Dan on 0161 480 2612 or funding.walthewhouse@ntlbusiness.com for more information.
#StockportSigns Week – Sunday 15th to Saturday 21st April
We will be running a #StockportSigns Week this April, to raise awareness of British Sign Language and the challenges that people with a hearing impairment can face. We will be teaching people BSL through short videos, and then asking them to video themselves doing a greeting and spelling their name in BSL. You can get involved on our Facebook (Walthew House for Deaf and Blind) or Twitter (@WalthewHouse) pages!
Social Night – Friday 18th May
We will be hosting a Social Night for people with a sight loss, where you can come along and socialise with others who have a sight impairment. There will be a bar serving alcoholic and non-alcoholic drinks, and we are thinking of ordering takeaway for those who attend. The event will be free to enter but there will be charges for the food and drink options.
Race Night 
– Saturday 2nd June
Our annual Race Night fundraiser will be taking place this June, giving you another opportunity to chance your arm and bet on the races!
Table Top Sales
We hold regular table top sales, with people coming from across Stockport to browse what is on offer. Tables are provided at £7.50 each, and each event runs from 9am until 11am. Stall holders are able to arrive from 8am to set up their table displays and there will be a brew waiting for you upon arrival.
Zipwire – Saturday 21st July
We are currently organising a group booking to do the Velocity zipwire in North Wales, as a fundraiser for Walthew House. The zipwire is the longest one in Europe and is the fastest one in the world! If you want to challenge yourself and raise money for our charity then please get in touch. We will be sorting out the transport for the day.
See Hear Exhibition – Tuesday 18th September
In September we will again be holding our biennial See Hear exhibition, bringing together more than 40 organisations and groups who can be of benefit to those with a sight or hearing loss. The event is free to attend and there will be refreshments available on the day, including bacon and sausage butties. We are also looking to provide new activities and workshops on the day this year, if you have any ideas for these then please let us know.
Auction – Friday 5th October
Our annual auction is always very successful, with a variety of lots including sports memorabilia, family attraction tickets, unusual & bespoke opportunities and performance tickets.
Christmas Fair – Saturday 17th November
This will be our second Christmas Fair and will feature a variety of stalls, many of which supply homemade or crafted items and gifts.
Quiz Night – Saturday 24th November
Teams of up to 6 people can compete in our quiz, with last year's prize being 6 bottles of prosecco! Priced at just £5 per person including a hot buffet, it's always a great night out for family, friends and work colleagues alike!
Breakfast with Signing Santa – Saturday 8th December
For the first time ever we will be hosting a Breakfast with Santa event, where your little ones can come and meet the man himself alongside having breakfast and snacks. Unlike most events though, our Santa will be a competent BSL user meaning they can also speak to deaf children.
Carol Service – Sunday 9th December
Our annual Carol Service is always a hit, working with St Matthew's Church in Edgeley. Previous services have featured performances from the Stockport Community Choir, the Walthew House steel band and our very own signing Youth Club.
Christmas Lunch – Tuesday 11th December
Community Fundraising
We are lucky to receive the support each year of many community groups and organisations. In 2017 we have the support of groups including the Decibelles Ladies Choir, Cheadle & Gatley U3A and Hazel Grove Rotary Club. If you would like to support us in future then we would be happy to discuss this with you, and to provide any materials that you may need. We are very appreciative of your support and you can contact Dan Oliver to discuss more, on 0161 480 2612 or funding.walthewhouse@ntlbusiness.com.
Our team regularly do talks across Stockport about the work of our charity, and we would be happy to book a date in to speak to your group or organisation. Please contact Dan Oliver using the details above if you would like to organise a talk.
Corporate Fundraising
Each year we are delighted to receive the support of businesses from across Stockport, including those who participate in our annual blind bowling tournament and those who have one of our charity collection boxes. We would particularly like to thank Booth Ainsworth, a long term supporter of ours who raise money through regular dress down days and cake sales – over the years they have helped to raise more than £7000 for us!
If you or your business would like to support us, whether for a month, a year or on a more permanent basis, please contact Dan Oliver on 0161 480 2612 or funding.walthewhouse@ntlbusiness.com. The photo below is of members of staff at Booth Ainsworth before the Stockport 10K.
Challenges in 2018
Manchester Marathon – Sunday 8th April
Manchester 10K Run – Sunday 20th May
Abseil down the Trafford Centre Tower – September 2018
If there is a different fundraising challenge that you would like to get involved in then please contact Dan Oliver on 0161 480 2612 or funding.walthewhouse@ntlbusiness.com.